Valentine's Day is fast approaching and your pets need to remember your love for them too.
From dog treats to cat toys, here we take a look at some great gift ideas to give your pet something special on Valentine's Day.
Kissing fish dog toy
Your pooch will love this soft plush fish toy featuring heart-shaped fins and kissing red lips held together by elastic fabric. Each fish contains a playful squeaker that will keep your dog stimulated for hours. Available for $5 at Target.
Valentine's Day Bandana
Make your pup even more irresistible than he already is with these Valentine's Day themed bandanas. The two-piece set comes with a "free kisses" reading and another "heartbreaker" reading. Available for $8.99 on Amazon.
…and dog collars
Pack this pink/red dog collar with a heart print design and matching bow tie. Available for $17.99 on Amazon.
…And Kitty Necklaces
These cute cat collars also feature heart prints and each comes with a little bell. They come in a pack of four. Available for $11.99 on Amazon.
Headband & Bow Tie Set
Dress up your dog or cat with this adorable four-piece set (two headbands and two bow ties), in shades of pink and red and adorned with heart and polka dot prints. Available for $12.99 on Amazon.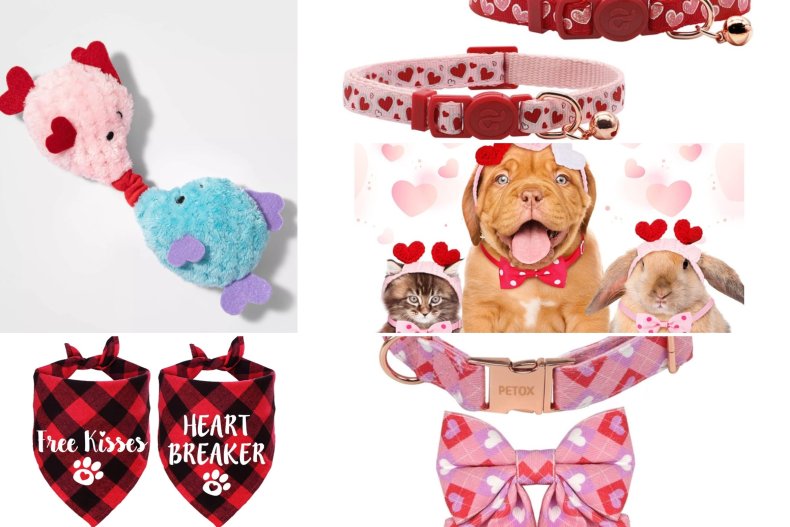 Plush bottle of rosé
This rose wine bottle plush toy is made with soft and durable mesh. Featuring an "inner squeaker and crinkle", the toy is designed to keep your pooch engaged. Available for $10.99 on Amazon.
A tunnel of love
Send your cat into a tunnel of love with the Whisker City Rose Pop Open Play Tunnel. Throw a few toys into the tunnel to watch your feline friend play hide and seek on their own. It comes with a hanging toy for when your cat is feeling extra playful. Available for $9.99 at Petsmart.
Heart-Shaped Scratch House
Your cats will love this colorful two-storey scratching house from Boots & Barkley, made with heart-shaped cutouts on each side. In addition to being a great place for your cat to exercise their claws, the house doubles as a cozy spot for a cat nap. Available for $16.99 at Target.
Valentine's Day Dog Treats
This tin of Valentine's Day themed dog biscuits is a special treat to show your pooch some extra love. Available for $21.99 at Target.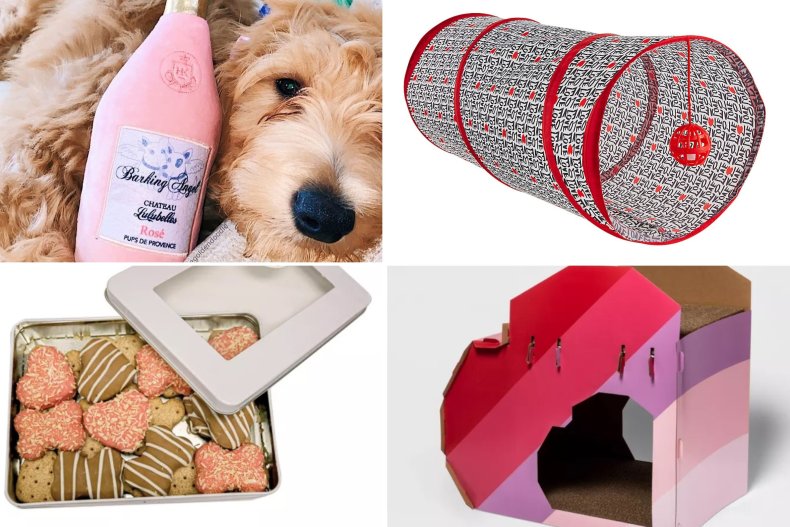 Newsweek may earn a commission from links on this page, but we only recommend products that we support. We participate in various affiliate marketing programs, which means we may earn commissions on editorially selected products purchased through our links to retailer sites.