"Never love someone who treats you like you are ordinary"- Oscar Wilde
We couldn't agree more and Valentine's Day is no ordinary affair here at WeHo. Whether you celebrate this with your sweetheart or your lovers (we're not judging), your best friends or yourself, this week's episode has you covered in sweet treats at a romantic getaway – all found in our little "village" of West Hollywood.
Valentine's Day conveniently falls in co-host Maxine's birthday week, and it looks like our own Vanity Girl Hollywood had a memorable COVID birthday celebration while in quarantine at home with all of the kids. things that make her smile, including her favorite treat from beyond the "east side" of WeHo. You can surely bet that Tracy is getting ready to scour WeHo's Little Russia neighborhood along Santa Monica Blvd to grab that jar of caviar for her February 14 plans!
Tracy and Maxine kick off the Valentine's Day recap with the most obvious of the most obvious gifts for this branded party for lovers: flowers. These two clearly know where to go for all budget ranges, from Trader Joe's to the Farmer's Market on Melrose Place, to the hidden Flower's Wholesale store just east of Crescent Heights, to the exquisite arrangements of the longtime West Hollywood florist – The Empty Vase. Insider tip: An arrangement from there is sure to win over all hearts you are looking for!
Both have a LONG list of sweets for your sweetheart with an emphasis on this three berry cake which is by far the crowd favorite at Sweet Lady Jane which features a special three berry cake, cookies and coated strawberries. of chocolate to complete your Valentine's Day celebration. Tracy's favorite WeHo adjacent Cake Monkey also has a variety of special treats, including heart-shaped chocolate and raspberry cakes with a personalized Heartgram iced on top. For a little Italian touch to your sweet tooth, Maxine recommends a gelato cake from Gelato Festival on Melrose.
If you are looking for a heart-shaped pizza, the new La Morra Pizzeria at 8022 W. 3rd St. is your go-to place! It seems that the adorable mother-son Parisian team of Salon de Thé on Sunset has grown to become a gourmet catering and event company. Tracy and Maxine have amazing ideas on where to enjoy the gourmet boxes on offer online filled with a selection of meats and cheeses, pastries for a poolside brunch at The Edition, and a Parisian box set with wine, bubbles, caviar and more, it is ideal for a movie night in the car in the street in Andaz.
Valentine's Day can look like a lot of different ways, and WeHo offers everything from a cheeky package at Le Parc Suites, to Pleasure Chest… with Maxine saying it best, "let's just celebrate your love".
This week features a guest montage, two we've featured before, that are a perfect fit for this themed episode. Anthony Carro of Candle Delirium encourages people to break the habit of giving flowers and giving candles! Rose is by far the go-to scent for this occasion and Anthony has a long list to choose from including his own Candle Delirium line offering signature scents of Rose Noir & Woods and Suede & Smoke with his surprising cult following. Candle Delirium is open Sunday for your last minute shopping from noon to 6 p.m., open at noon on Sunday with pickup and delivery options available. Be sure to check out Anthony's Valentine's Day picks online.
Mikey Consbruck of V Wine Room celebrated his eighth birthday this week and installed retractable patio seats where you can enjoy a drink of your favorite with your sweetheart. He recommends pairing your wine upside down with your choice of food, but Mikey is really thinking pink for Valentine's Day and has you covered for an "All Day Rosé" day with a fun array of bottles and choices. sparkling fun! V Wine Room packed their own house brand Grenache Rosé with a candle for $ 27. Tracy loves bubbles and there are plenty to choose from, including three pink bubble options: a Champagne from France, a Cava from Spain with hints of strawberry and cherry, and Tracy's favorite sparkling red – Lambrusco. Make a reservation on the back patio for Sunday from 2:30 p.m. to 10 p.m. and don't forget the 20% discount on all bottles when you buy in-store. (Delivery is also available through Postmates and other delivery providers.)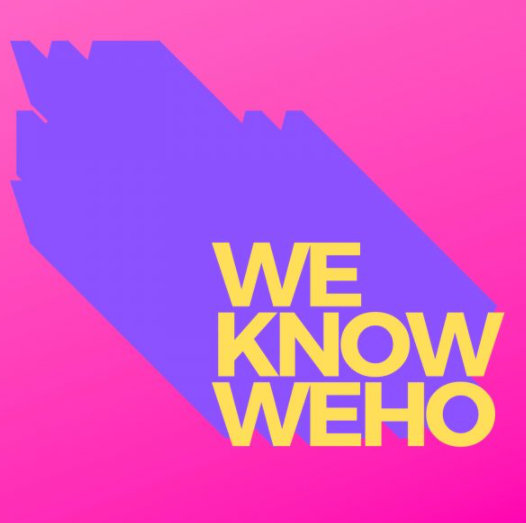 This guest panel concludes with a local chocolatier, Annie Woo of Sweet Duet Chocolate, from Angelino whose chocolate-coated fruit can be enjoyed with a perfect pairing in the V Wine Room. Annie was trained as a French chocolatier, but went vegan along the way and vegetated her range of dates coated with chocolate, mangoes, apricots and pineapple. The range is completely vegan, organic, non-GMO, kosher and gluten-free. Order some for your sweetheart online and use code Weknowweho20 for 20% off online.
Here's a rundown of the ideas featured in this week's episode for your consideration.
Food
To eat: Bristol Farms, Fresh on Sunset, La Morra, Olivetta at La Peer Hotel, Petrossian Restaurant & Boutique, Ronan, Saddle Ranch, Salon De Thé, Trader Joe's, WeHo Bistro
To drink: V Wine Room, One Hope Wines, Belvédère
Candies: Bottega Louie, Cake Monkey, Gelato Festival, Georgetown Cupcakes, Gelson's, Le Mervetty, Magnolia Bakery, Sidecar Donuts & Cafe, Sweet Lady Jane, Sweet Duet Chocolates
Gifts: Candle Delirium, Odessa Caviar, Hustler Hollywood (RIP Larry Flynt), The Empty Vase, The Pleasure Chest, Zen WeHo
Make
Sweat: Carrie's Pilates Plus, Dogpound Fitness at La Peer Hotel
To concern: "Sunset Strip Presents" at the Andaz
Stay packages
Hotels: 1 Hotel, Andaz, Hotel Le Peer, Hotel Le Parc Suite, West Hollywood Edition
It's a wrap! Be sure to follow the podcast on Apple edited by Tracy, find out more on Maxine's blog, and check out our Instagram curated by Lauren for daily deals and more. See you next week.
Listen to the podcast: